Personalized Video Game Birthday Party Invitations
Planning a video game birthday party? I've gathered several fun
video game birthday invitations
that would be perfect for gathering the gang at your house for a good old-fashioned video game competition. These invitations absolutely work for any age group but would be especially great for an "I'm not a baby anymore but I still want a birthday party with all the bells and whistles" Tween boy's birthday party.
These invitations come to you from Zazzle.com, the world's leader for custom and personalized invitations and other quality products. Each of these affordable invitations were designed by an artist who keeps shop at Zazzle and comes with a 100% satisfaction guarantee. As with all of Zazzle's great creatives, these video game birthday invitations can be customized for size and content.
Here's some of the most popular video game birthday party invitations available at Zazzle right now.
Click on your favorite to learn more, or to order yours from Zazzle today.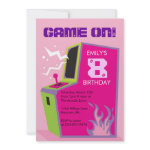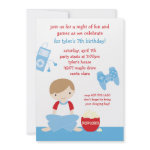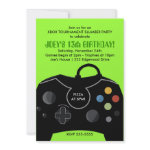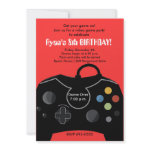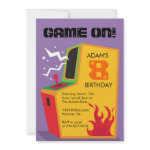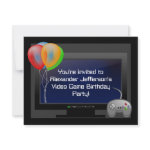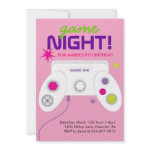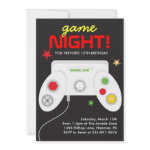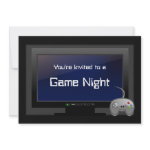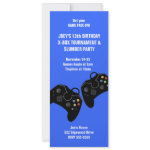 See all of the Video Game Birthday Invitations at Zazzle
Video Game Birthday Party Ideas
The best thing about having a video game birthday party is that it pretty much runs itself. Simply set up the game system and let the kids decide who gets to play first. If the party consists of more players than game controllers, you'll want to have something on the side for the kids to do while waiting. For Tween boys, a deck of cards and some light non-greasy (Gotta keep those game controllers clean!) snacks might be all you need.
Serve something like pizza or hot dogs for the meal so they can grab it and go when it's not their turn and a cake with a video game theme.
A trophy for the winner of the competition would make a fun addition but be sure to send everyone home with a party favor so nobody feels left out.
You'll find more video game birthday party ideas by visiting:
Video Game Party Ideas
- Several age specific video game party ideas.
Video Game Party
- Arcade video game ideas.
Video Game Cake Photo Credit